Agdenes i Sør Trøndelag 2003 foto: Morten Moe
Heinkel He 111 H-1 Storvatnet, Agdenes Sør-Trøndelag
Aufklärungsstaffel 1.(F)/AGr 122 WNr.???? F6+HH 21.04 1940

Took off from Aalborg West in Denmark. According to an article in the local newspaper during the rescue operation the aircraft was hit by ground fire from a British destroyer on 23.April.
The Heinkel made an emergency landing on the frozen lake Storvatnet. The plane was located in 1968. One of the Jumo 211engines, remains of mount, and the tail fin, were recovered from the lake in August 1974 and brought to the Imperial War Museum.
The fin and one of the engines of this a/c are all that remain of the wreck to day.
They are on display at Imperial War Museum Duxford, Hangar 4. The construction number SR 2117 was found on the wreckage.
Storvatnet 17.1 2004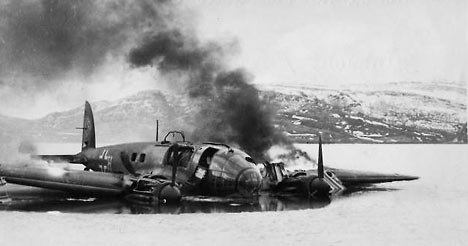 Etter nødlandingen på isen ble flyet påtent av besetningen. Flyet gikk gjennom isen og sank. Besetningen var uskadd og tok seg antagelig frem til tyske styrker som allerede hadde besatt kystfortene i området.
©morten moe 8th Sept. 2012