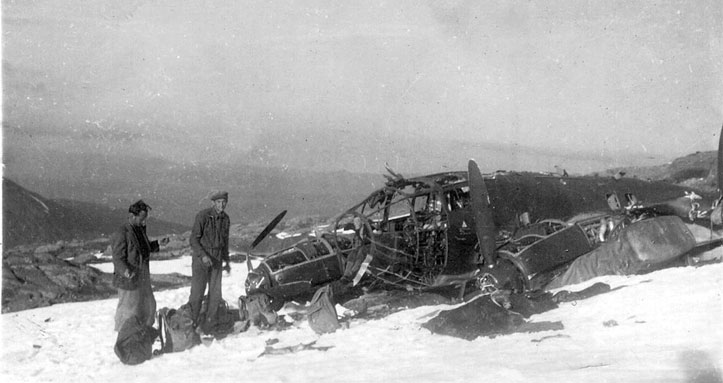 Heinkel He 111 H-5 Storskarven Nord-Trøndelag
Wetterkundungsstaffel Wekusta 5 1B+CH WNr.3824 20.01 1941
Emergency landing due to engine failure at mountain Storskarven, east of Værnes. Fw. Gabriel Hummel unhurt,(died 22.12.41 in an emergency landing at sea south of Hitra). Hptm. Wolfgang Zechiel WIA. Reg.Rat Dr. Paul Kothe(meteorolog) WIA.(died in crash, Berlin 1942). Uffz. Richard Gerber. Fw. Karl Schaum. The crew walked down to the hut Huldrevolden. There they were rescued by a ski patrol three days later. This A/C also had a landing accident at Værnes 26.9 1940
Foto via Tom Rønsåsbjørg og Morten Moe
left: Fw.
Gabriel Hummel
.
He survived this crash at Storskarven, but lost his life 22.12 1941 in an emergency landing at sea, south of Hitra.
photo via christian berring.
Norwegians at the crash site, July 1941. They were collecting fuel.
Right and below: Sverre Tronsmo took some photos of the Heinkel.
Photos via Wenche Tronsmo Almebakk.
photo via wenche tronsmo almebakk
1988
colour photos from a visit in late summer 1988 by kjell sørensen and morten moe.