The depot ship "Black Watch", DS "Senja" and the submarine U-711 were both sunk. The floating flak battery "Thetis" (Harald Hårfagre) fired back during the attack and was probably credited the Avenger.
A Grumman Wildcat (JV809) of 882 Sqdn. was also shot down and crashed into the sea. The pilot: Lieutenant Hugh 'Hughie' Morrison (27) from New Zealand was brought a shore, but died shortly after. He is buried at Narvik Cemetery.
Grumman TBF-1C Avenger Slettlian, Kilbotn Harstad
846 Squadron Fleet Air Arm HMS "Trumpeter" JZ217 "C" 04.05 1945
"Operation Judgement" took place In the afternoon of May 4 1945. Their target was the U-boat base at Kilbotn, near Harstad. Avenger JZ217 of 846 Sqdn. was was hit by AA-fire and they tried to make a forced landing on a field near by, but hit a tree which ripped off one of the wings. Lt. Francis John Gahan (22), S/Lt. Alasdair Donald Hay Elder (20) and L/A Peter Bernard Mansfield (22.) All three are buried at Sørvik Churchyard. This was to be last offensive naval operation in the war against Germany.
© 03.08 2007 kjell sørensen
The landing gear (left wing side) of the Grumman Avenger
Label on the landing gear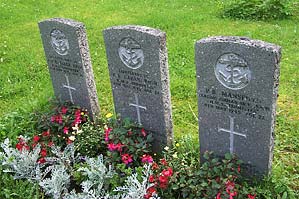 Aircraft "A" JZ177 (Lt.John S.Toner, Lt.Cdr. C.L.F.Webb and PO. G.B.Wells), and aircraft "P" (Lt.D.J. Bunyan - Lt.J.F.Cadenhead and K.R.W. Tyler) were both hit, but managed to land safely onboard the carrier.