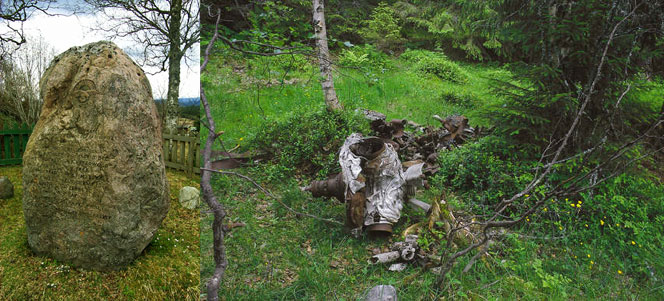 Small parts of the aircraft can be found all over the area even today.
A memorial stone has been erected at Borås farm,near the crash site.The stone also remembers the crew of Lancaster L7572 OF-L from 97th Squadron which crashed nearby on the same night.
©kjell sørensen 2000-2001-2003
photo:Nils Kyllo via Morten Moe
Handley Page Halifax Borås, Okkelberg Nord-Trøndelag
35.Squadron RAF W1020 TL-K 28.4 1942
Took off from RAF Kinloss in Scotland at 2023 hrs, to participate in an attack on the German Battleship Tirpitz, moored at Fættenfjord north of Trondheim. They were probably hit by German flak and attempted to head for Sweden. Still loaded with mines and bombs, the aircraft exploded when it hit the hillside at the farm Borås, killing all onboard imediately.
Pilot.F/Lt.Michael Reginald Mark Pools. Navigator P/O Gerard John Peter Henry(21). W/Op Air Gunner Sgt. Donald Edgar Rarity. W/Op Air Gunner Sgt. Allan Wilstrop(22). Tail Gunner P/O. Frank William Gosnell Hill(30). Flight Engineer Sgt. Hubert Allan Booth(30).
Full story at Linzee Druce web site:here
The bodies of all the crew members are buried in Stavne Cemetery in Trondheim.